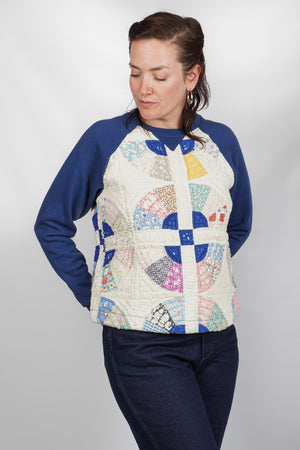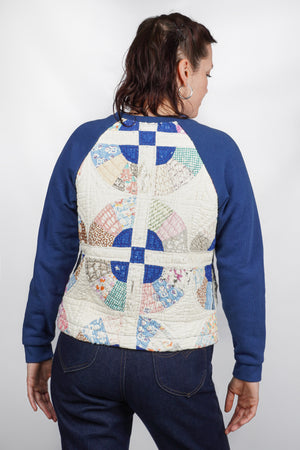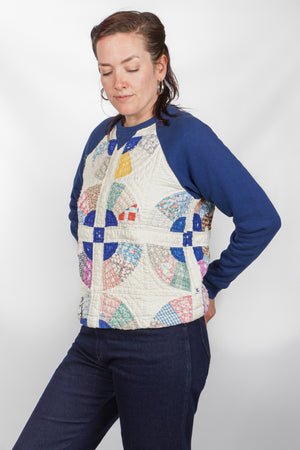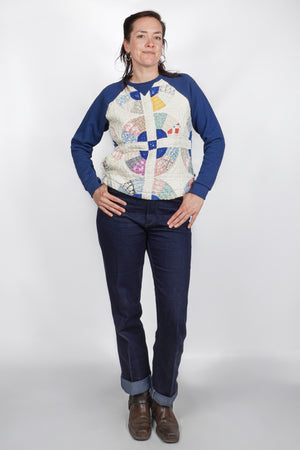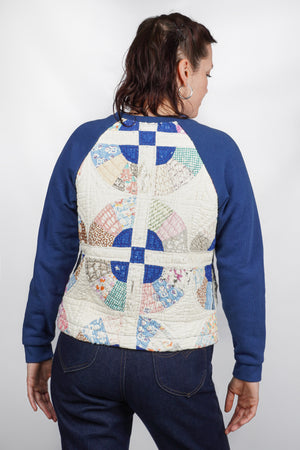 SAMPLE Sierra Sweatshirt | Distressed 1940s/50s Quilt | Medium
One-of-a-Kind. Body is made from a damaged 1940s/50s vintage cotton hand-stitched quilt, and the terry cloth sleeves are made from a modern cotton french terry.
Please note - this is a discounted SAMPLE SALE item because the quilt that was used shows significant damage. The batting is showing through lots of small holes and is also missing in several spots, 
 + + + + +
S I Z E
US Medium
40" bust
41" hem opening 
23" length
Sleeve is 30" from collar to cuff
 + + + + +
A B O U T
The Sierra sweatshirt has a boxy body made from a vintage quilt, and soft, stretchy thick cotton terry raglan sleeves. 
This sweatshirt has vintage quilt on both the front and back, which means the body does not have any stretch. It will have a slightly boxy fit, and you should size up if you worry about the fit being too tight. 
+ + + + +
Our one-of-a-kind found fabric collections are created from vintage fabrics and there may be some small stains and other signs of wear that come along with vintage items. Any major flaws are noted. 
This is a delicate item that should be hand washed. See our care instructions for more details. 
Made from a vintage quilt and sewn in San Francisco, CA.