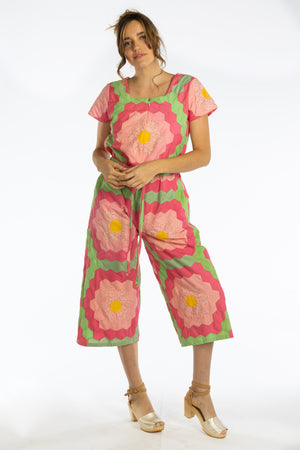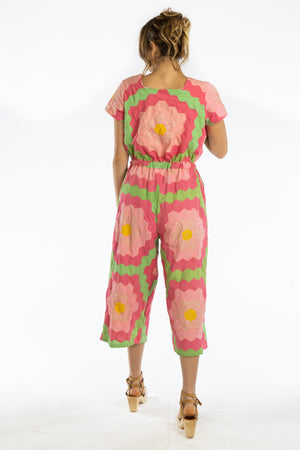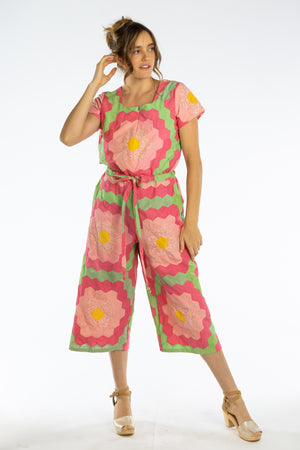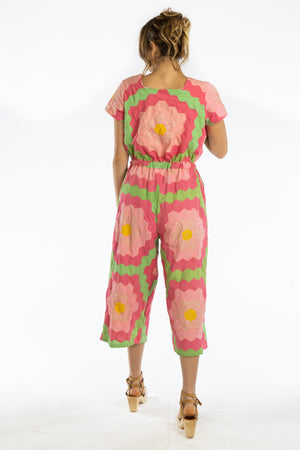 Romeo Jumpsuit | 1930s Quilt Top | Medium
One-of-a-Kind. Made from a vintage 1930s cotton hand-stitched quilt top.
There is some color variation in the greens - looks like they ran out of one color and got another that wasn't an exact match. 
+ + + + +
S I Z E 
US Medium
Bust 43"
Waist up to 38" (can be cinched smaller with drawstring)
Hip 45"
Bodice (shoulder to waist) 17.5"
Length (shoulder to hem) 49.5"
+ + + + +
The Romeo Jumpsuit has a zipper front for easy on/off and a drawstring waistband for a perfect fit. Short sleeves and a square neck. 
Pockets, of course. 

This garment is only partially lined, bodice and sleeves only. 

+ + + + +
Our one-of-a-kind found fabric collections are created from vintage fabrics and there may be some small stains and other signs of wear that come along with vintage items. Any major flaws are noted. 
This is a delicate item that should be hand washed. See our care instructions for more details.