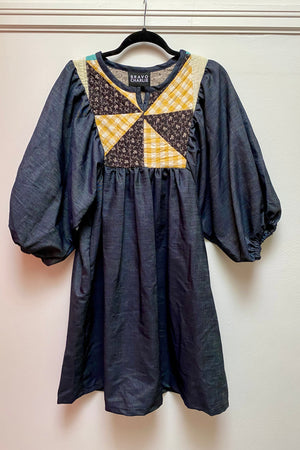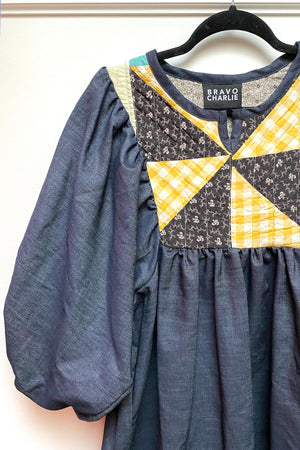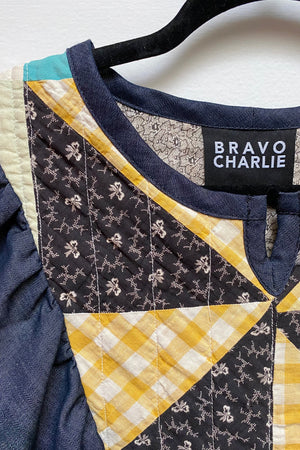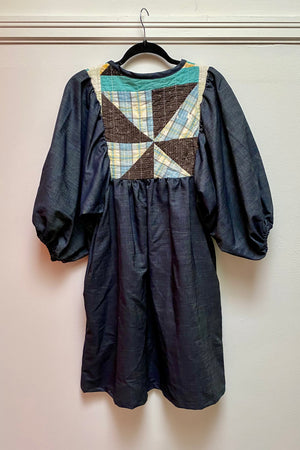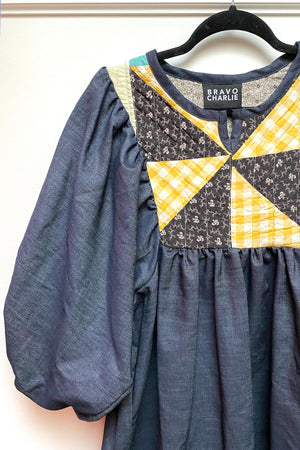 Remnant Dress | Antique Quilt and Deadstock Denim | Small
One-of-a-Kind. Made from an antique cotton quilt and a modern, lightweight deadstock denim.
 + + + + +
S I Z E
US Small
Bust: 40"
Slightly Below the Bust at the narrowest spot: 36"
Waist: 48" 
Bodice (shoulder to bottom of front panel) 11.5"
Length (shoulder to hem) 38"
Sleeve: 18"
F I T
These fit fairly true to size, maybe running a little big because of the generous cut
 + + + + +

The Remnant Dress is a made from scraps of vintage textiles from past projects, and deadstock denim/fabric sourced from fashion industry surplus.
The silhouette is 70s inspired, with billowy sleeves with elastic cuffs and a babydoll cut. 
Pockets, of course. 
Unlined.

 + + + + +
Our one-of-a-kind found fabric collections are created from vintage fabrics and there may be some small stains and other signs of wear that come along with vintage items. Any major flaws are noted. 
This is a delicate item that should be hand washed, and care should be taken with the dark denim as some color transfer may occur. See our care instructions for more details. 
Sewn in San Francisco, CA.