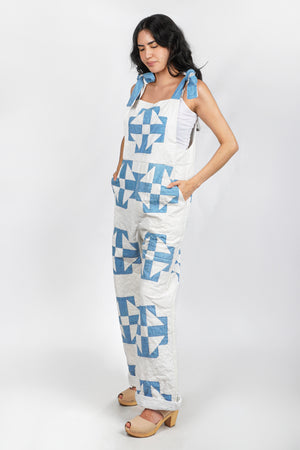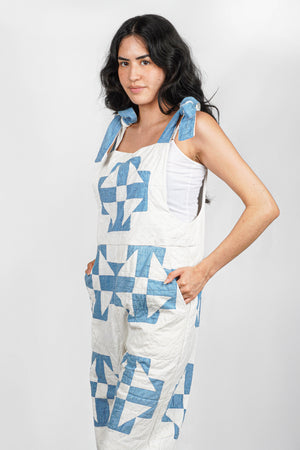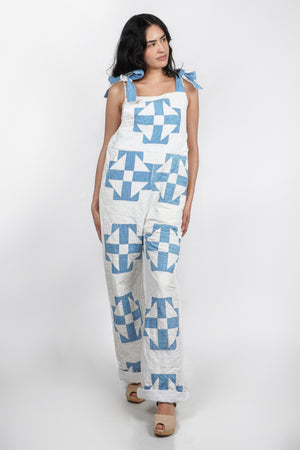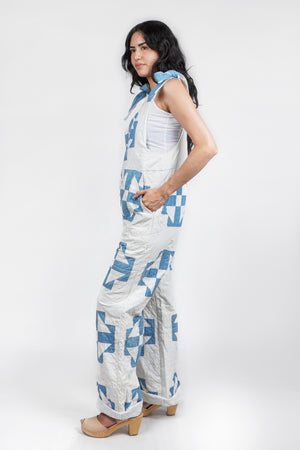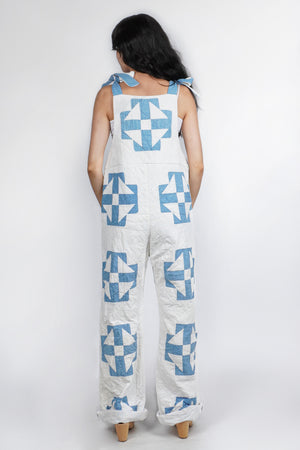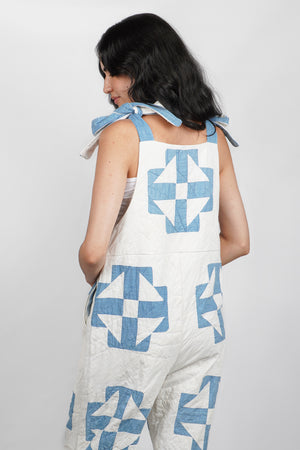 Delta Quilt Overall | Vintage 19th C. Calico Quilt | Large
One-of-a-Kind. Made from a vintage 19th C. cotton calico hand-stitched quilt. The quilt is a thin, sturdy quilt. 
The legs on this pair of overalls are extra long, and can be cuffed or professionally hemmed if you'd like them shorter.

+ + + + +
The Delta Overalls are a step-in style overall and have ties on the shoulders for an adjustable fit for any length torso. Wide legs and relaxed fit. 
Pockets, of course. 

Bodice is lined, pants are unlined. 

+ + + + +
S I Z E 
US Large
Opening 18.5" 

Waist 37" 

Hip 43"
Inseam 31.5"
Length from front bib top (not including straps) 56"
Fit: These are step-in overalls with no closures, which means your hips will need to fit through an opening roughly 18.5" across. Your hips can be larger than than 37"! As long as your hips/waist fit the posted measurements, the overalls should fit. Size up if you'd like a looser fit. 
For reference, the model is 5'7"
+ + + + +
Our one-of-a-kind found fabric collections are created from vintage fabrics and there may be some small stains and other signs of wear that come along with vintage items. Any major flaws are noted. 
This is a delicate item that should be hand washed. See our care instructions for more details. 
Sewn in San Francisco, CA