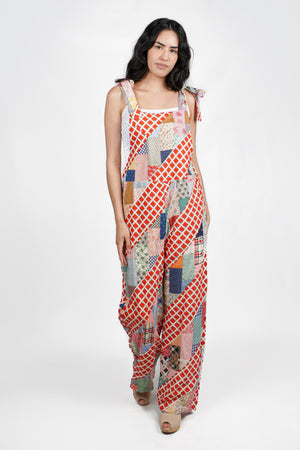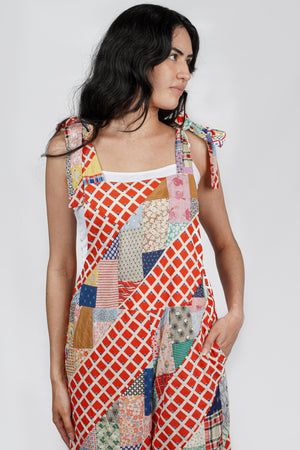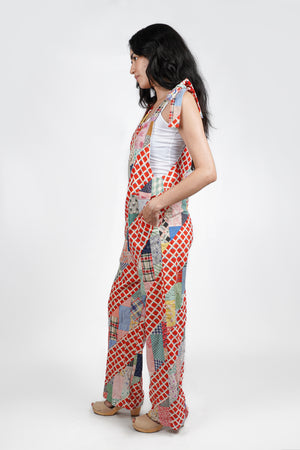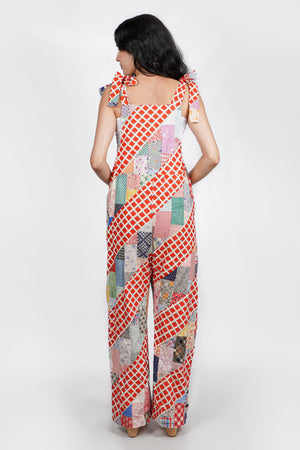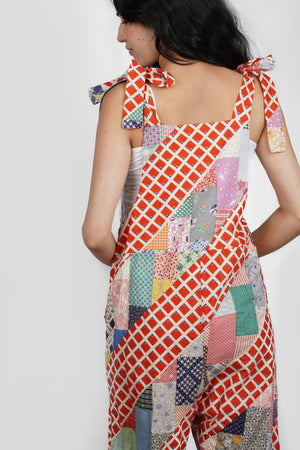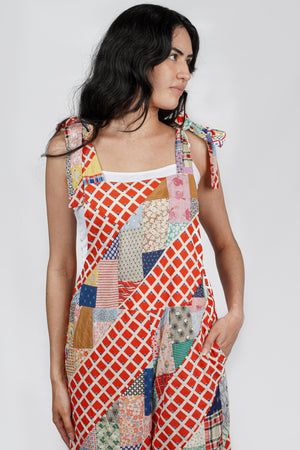 Delta Quilt Overall | 1930s/40s Quilt Top | Medium
One-of-a-Kind. Made from a vintage 1930s/40s cotton hand-stitched Double Wedding Ring quilt top.
+ + + + +
The Delta Overalls are a step-in style overall and have ties on the shoulders for an adjustable fit for any length torso. Wide legs and relaxed fit. 
Pockets, of course. 

Fully lined. 

FLAW NOTED: There are some brown stains on the front of this vintage quilt top that did not come out in our washing and could not be avoided because of the necessary pattern placement to get the look we wanted from this quilt top. The stains are subtle but visible on the bodice and a few other places on the front. They are part of the history of this vintage textile!
+ + + + +
S I Z E 
US Medium
Opening 18" 

Waist 37" 

Hip 42"
Inseam 27.5"
Length from front bib top (not including straps) 51.5"
Fit: These are step-in overalls with no closures, which means your hips will need to fit through an opening roughly 18" across. Your hips can be larger than than 36"! As long as your hips/waist fit the posted measurements, the overalls should fit. Size up if you'd like a looser fit. 
For reference, the model has a 33" bust, 28.5" waist and 36.5" hips, and is 5'7". These overalls were loose fitting on her. 
+ + + + +
Our one-of-a-kind found fabric collections are created from vintage fabrics and there may be some small stains and other signs of wear that come along with vintage items. Any major flaws are noted. 
This is a delicate item that should be hand washed. See our care instructions for more details. 
Sewn in San Francisco, CA